Letters on sounds production report
---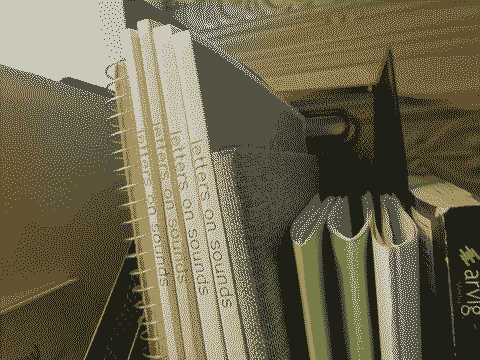 The first issue of Letters on Sounds is chugging along in production. There are still some fun mysteries to solve in the production of this issue.
The booklet for Audiobulb & friends play He Can Jog is built up from three small folios. The pages in each folio are pamphlet-stitched together, then all three folios are glued together. When that dries the next day, I glue a cover on to complete it. (And staple an insert onto a back page.)
Those turned out pretty nicely: the extra step of the glued cover feels pretty cool. They aren't difficult to make, but it takes 10 or 15 minutes to fold stitch the folios for a single booklet.
That's the approach I've been taking for the zine, too – with a couple extra stitches in each folio because the pages are twice as big, but otherwise that three-folio glued approach works pretty well. The image at the top of this post is of a few test copies made in this style.
After speaking with a local dealer about risographs (a subject for another post!) and describing this process to him, he mentioned perfect binding – assuming I was working with legal sized paper and perfect binding the zine.
Printing onto tabloid (11x17 inches in the US, close to A3 size everywhere else) sheets means I have to invest in a tabloid sized printer or do the base printing at the copy shop. That's not a problem, really. At 25 cents a page for tabloid-sized copies, it's reasonable to do a run of 100 copies of a 40 page zine. Not exactly cheap, but not terrible.
If I want to invest in an in-house printer – and Riso machines are the most attractive to me for this purpose because of the crazy cheap mixable ink, cold transfer process, and rumors of minimal maintenance and repairs – going to tabloid sizes really increases the price.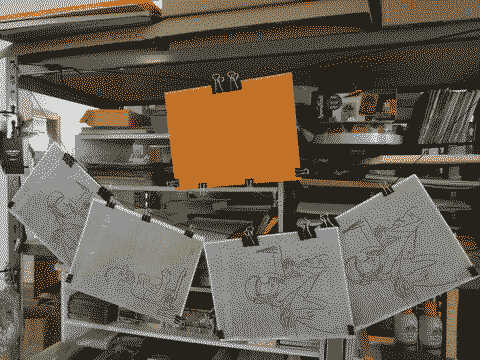 So: now I'm letting a couple perfect binding experiments dry. I took two sets of 20 sheets of paper and painted a bunch of seaweed paste onto one set and a smearing of carpenter's wood glue on the other. The seaweed paste dries very slow and stays flexible for a pretty long time. Carpenters wood glue dries as hard (harder?) as wood. You can sand it.
The wood glue might snap and break under stress. Maybe the seaweed paste will be better, even if it's harder to work with and dries slower.
There's always Elmers, and I have a recipe for wheat paste (bookbinder's glue) that I'd like to try and compare, too.
There's something lovely and exciting about sewing folios, but if perfect binding works out, maybe I'll take the plunge on that affordable EZ221 I've had my eye on for a while.